What's the only thing stupider and more asinine than a U2 Special Edition iPod?
That's right: A Revenge of the Sith Special Edition iPod. Take my word for it... it's coming soon: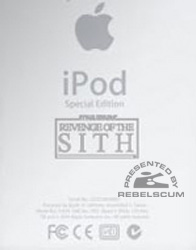 Ug... and the only thing more crappy than that would be a
Beatles
iPod. We can only pray the remaining members of that crap-ass band die before Paul Macarthy can whore himself out any further.
Remember, you read it here first. Unless, that is, you read it at
rebelscum.com